Scroll down and click on package you are interested in to also check available dates and times.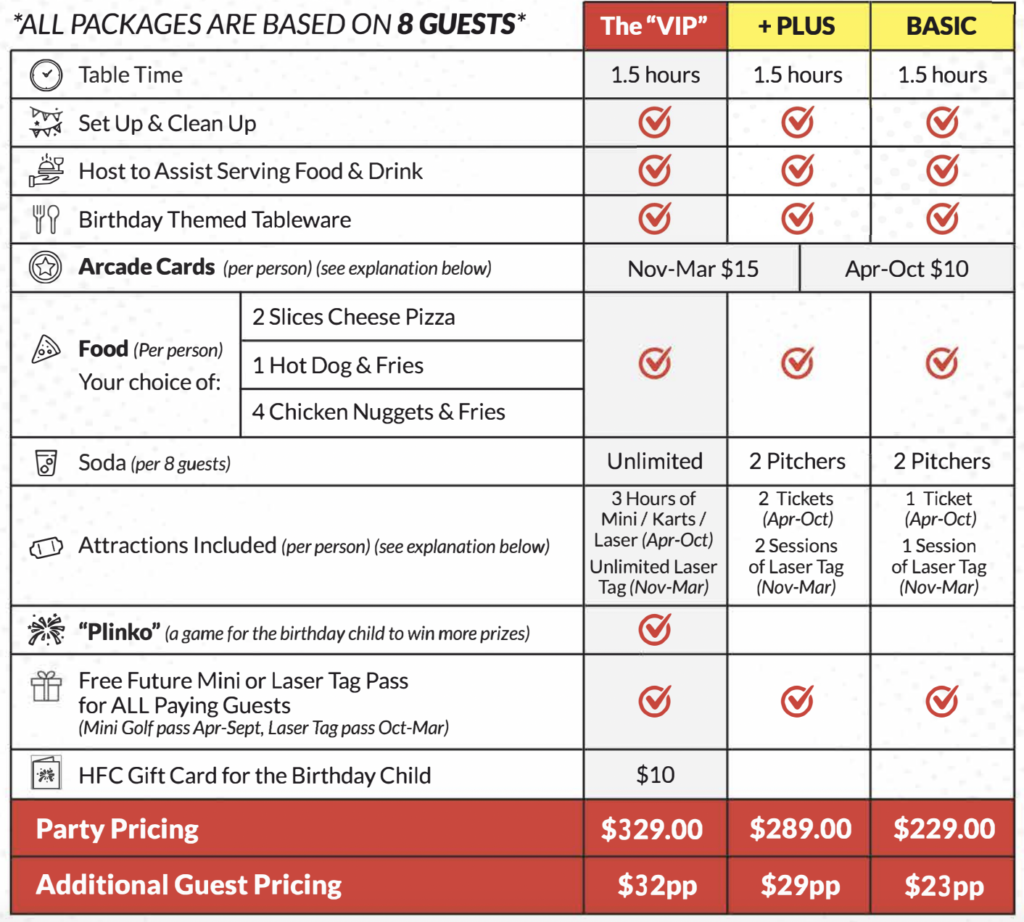 NOTICE: OUTSIDE ATTRACTIONS CLOSE THE END OF OCTOBER, ALL PARTIES
AFTER THAT UNTIL THE END OF MARCH ARE LASER TAG ONLY FOR ATTRACTIONS
***FAQ's & party schedule at bottom of page***
Attractions & Access Card Details: 

Attractions begin one hour after party start time
April to October Attractions: Each ticket includes:

One Go Kart Ride OR One Round of Mini Golf OR One Session of Laser Tag OR 4 Batting Cage Tokens

November to March Attractions: Each ticket includes one 30 Minute Laser Tag Session
April to October Access Cards (for VIP Parties): Access card includes:

Unlimited Go Kart Rides, Mini Golf Rounds, and Laser Tag Rounds

November to March Access Cards (for VIP Parties): each access card includes Unlimited Laser Tag

(No 3 hour time limit….good till we close that day!!!)
AND the increased arcade card + we will keep and include Mini Golf until we close the course in November


Arcade Cards: because we only have laser tag as an attraction from November through March, we increase the amount of Arcade Card credits from $10pp (40 credits) to $15pp (60 credits)
Prices subject to change
---
Party Schedule:



Upon arrival, hostess takes your food order and party guests enjoy arcade games
Food is served 20 minutes after your start time
Attractions open following cake and presents, one hour after party start time
Please note, "Table Time" is not the length of your party, just the reserved time you have your table for.
---
Frequently Asked Questions:
(Some of these do not apply to Teen/Adult party. When you book that package, there are different policies that accompany the reservation confirmation)

Q: What is your policy regarding deposits and payment?

A: All parties require a $50.00 deposit to book. If you need to cancel, you must provide us with 7 days notice and we will issue a Gift Card in the amount of you deposit. If less than 7 days, no refunds will be given.  We do NOT store credit card information. Please do NOT leave the Fun Center without paying your balance.
Q: Is the Birthday Child included in amount of guests? What is my amount of guests change?

A: Yes, the Birthday Child is considered part of the "8" guests in the package.
All parties will receive a confirmation call the Thursday before the party to confirm details. We only charge for the amount of guests that attend (minimum of 8 which is
the package base amount) so we will confirm latest head count during the confirmation call.
Q: What is table time?
A: This is one of the most confusing aspects of our parties so we'll try and explain as best we can. It is the amount of reserved time at your table. It is plenty of time to eat and open presents. If we are not busy and we don't need the table, your welcome to keep using it even after the 90 reserved minutes are up; however, there are times (especially on weekends) that we may need clear your table so we can set it up for the next party. The table time has nothing to do with how long your party will last. There are many factors to consider as to when your party will actually be done. We can tell you that from November to early April, the only attraction open is Laser Tag so your party will end after the last laser tag game you have. You are welcome to stay at the Fun Center as long as you wish though!
Q: Why can't we start attractions first?
A: Mostly due to cooking and serving of food. If we didn't do it according to a schedule, we might very well end up trying to make 10 pizzas in a short time frame and wouldn't be able to. We don't want customers having to wait 30 minutes for pizza. Please don't ask us to change times for you, it really does end up affecting other parties.
Q: Can you explain the attractions and how they are used?  (November through March is Laser Tag only)

A:  Depending on the package you chose, you will have different amounts of attractions. They can be used for any attraction that is open. You can chose a Go-Kart ride, Mini-Golf Round, Laser Tag Game, or 4 Batting Cage tokens. You can mix and match too! If you have chosen Laser Tag, this will be the first attraction after food and presents (1 hr after start time). Laser Tag gets busy and we want to be able to make sure all your guests get in the same game. (Nov 1st-Late March early April is Laser Tag only for Attraction tickets).
Q: Can I go into the Laser Tag arena with my guests?
A: Only if you have paid for a ticket and are vested; It is an insurance requirement. We have an attendant or two  in the arena at all times.
Q: Does your pizza contain any nut products?
A: No,  our pizza does not contain nut products. Any food concerns should be brought to our attention as soon as possible. We do not list ingredients to our food items because manufactures change more often than you'd think.
Q: Can I add the discounted Add-ons the day of the party?

A: Yes, you can add or delete as needed
Q: Can I bring in my own cake or outside food?

A: Absolutely, you do not need to purchase from us.  Ice Cream cakes are fine too. If a guest in your party has specific needs or allergies to certain foods, you may bring in food for that guest. Some customers choose to bring in vegetable platters or other foods that we don't offer. We work these on an individual basis but for the most part, outside food is not allowed.  We have tried selling these types of foods in the past but most of it wasn't very popular. Please ask when booking what would be OK to bring in.
Q: Am I expected or should I leave a gratuity?
A: No, it's not expected; however there is much more involved than just serving pizza and cake. From the time you book your party until after you've left, there are a lot of details that can't be missed. So if we've done a great job (and we assume we always do)! Feel free to leave a gratuity for the staff. Many customers ask how much to leave and the answer is up to you. When a gratuity is left, we have found the average to be between 10%15%.
Q: Can I bring in a piñata or other items?
Due to insurance requirements, no pinatas can be brought in. You are welcome to bring in your own table settings if you want a special theme. You can also bring in balloons (we do sell the big foil helium ones). We can fill yours for a nominal charge of .50 each.
Q: What happens if it rains?
In light to steady rain, outside attractions, with the exception of our "Slic Track" remain open. In heavier rains, we may shut down Go Karts due to safety reasons. No refunds given due to rain. Laser Tag is indoors and remains open.
Lastly, when you book your party, we ask if you've read all the details and policies pertaining to your party, everyone says they do, but only 5% redeem the special little "token of our appreciation" for actually reading them.  (Hint Hint)
---
What Our Customers Say:
Dear Hilltop Fun Center, I booked my son's birthday party today at your facility for an upcoming date in the fall. I was very impressed with the customer service I received as I went through the process of booking this party. I had a ton of questions as this is our first time having a party at Hilltop and each time I called and spoke to Jessica she was not only courteous, friendly and informative but she also offered great suggestions and showed a lot of patience. It is such a treasure to have such a happy, outgoing and cheerful employee, so I found it really important to bring it to the attention of management. Not only was Jessica helpful but she was also very observant as well. When Jessica reviewed my order she called me right back as I had made a mistake when ordering my juice order. I had ordered 17 pitchers of apple juice instead of 4 pitchers of apple juice. I had not realized that you don't serve juice by the cup. I really appreciated her catching this mistake and fixing it for me. My family is looking forward to celebrating my son's birthday in the fall. And I feel really good about choosing Hilltop.
---
Dear Hilltop Fun Center, this is the second party I have booked for my family. The boys love it there. Unfortunately, their birthdays fall in the winter so we don't get to enjoy the outside activities but we love it there. The staff is courteous and helpful. The food is good and the facility is a great size as well as very clean. I know we will be coming back in the spring for my other son's birthday. Thank you for the inquiry. Rebecca.
We are glad to hear that you keep returning for your children's birthday parties! Thank you for the great feedback. Hilltop Fun Center Staff
---
Dear Hilltop Fun Center,
We, as always, had a wonderful experience with our party at Hilltop! Our "personal party person" always does such a great job! She is very friendly and polite and keeps things rolling. I feel the value is unbeatable, the facility has always been clean and the service A+! Thank you our 3rd great party at Hilltop! We will be back!
Best, Heidi, Very Satisfied Customer
Thank you for the awesome feedback! I'm so glad to hear you had a great day! Hilltop Fun Center Staff
---
Jonathan had a GREAT time at his party! His hostess was awesome! She was very helpful and accommodating! We will definitely have a party there again! Jen
Thank you for your great feedback! We look forward to seeing you again soon. Hilltop Fun Center Staff
---
Dear Hilltop Fun Center,
It was a wonderful experience and would consider having it there again.
The kids had a blast and I was stress free!!
Thanks- Diane
Diane, We are so glad you can be stress free having a birthday party with us. Come back and be stress free anytime! Hilltop Staff
---
Dear Hilltop Fun Center, The entire experience was very good. The staff took very good care of us. All were very friendly, patient, and efficient. The day really went off without a hitch, I couldn't be happier.
I did thank those there that day and tipped well, but if you have the chance, please again thank the staff for their very good work!!!!!
We look forward to visiting again, when we can cruise on the go carts…
Thank you, Diane
Come on back Diane, the karts are cruisin' along! Hilltop Fun Center Staff
---
Dear Hilltop Fun Center, We had a blast at the party. The kids really enjoyed the longer laser tag games, it was great idea to make them 30 minutes instead of 15. I enjoyed the whole party and cake was delicious. I haven't tried laser tag yet but I think that's my next goal. And thanks for the picture it came out great! Thank you for everything! Theresa
Theresa, we are so glad you enjoyed the new laser tag format. Make sure you come back to try a game of your own! Hilltop Fun Center Staff
---
Dear Hilltop Fun Center, Thank you for following up. The birthday was a blast. Andrew had a lot of fun and the lady that helped us was
amazinnnnng. She answered my billion questions and she kept her cool while the 7 crazy eight year old boys were wild. I don't know how you all do what you do but you do it well. Thank you again and I will plan to return next year on his birthday again!! Kelly
Kelly, we can't wait for Andrew to have another party here! Thanks for the great feedback. Hilltop Fun Center Staff