Recreation Departments, Church Groups, Field Trips, Christmas Parties, Sweet 16 Parties,  Rewards Parties, Fundraisers, Team Building…The list goes on, no matter what you are planning, put the "WOW!" factor in by letting Hilltop Fun Center be your host.
We invite you to compare our group rates against other parks locally…..apples to apples we have the best rates!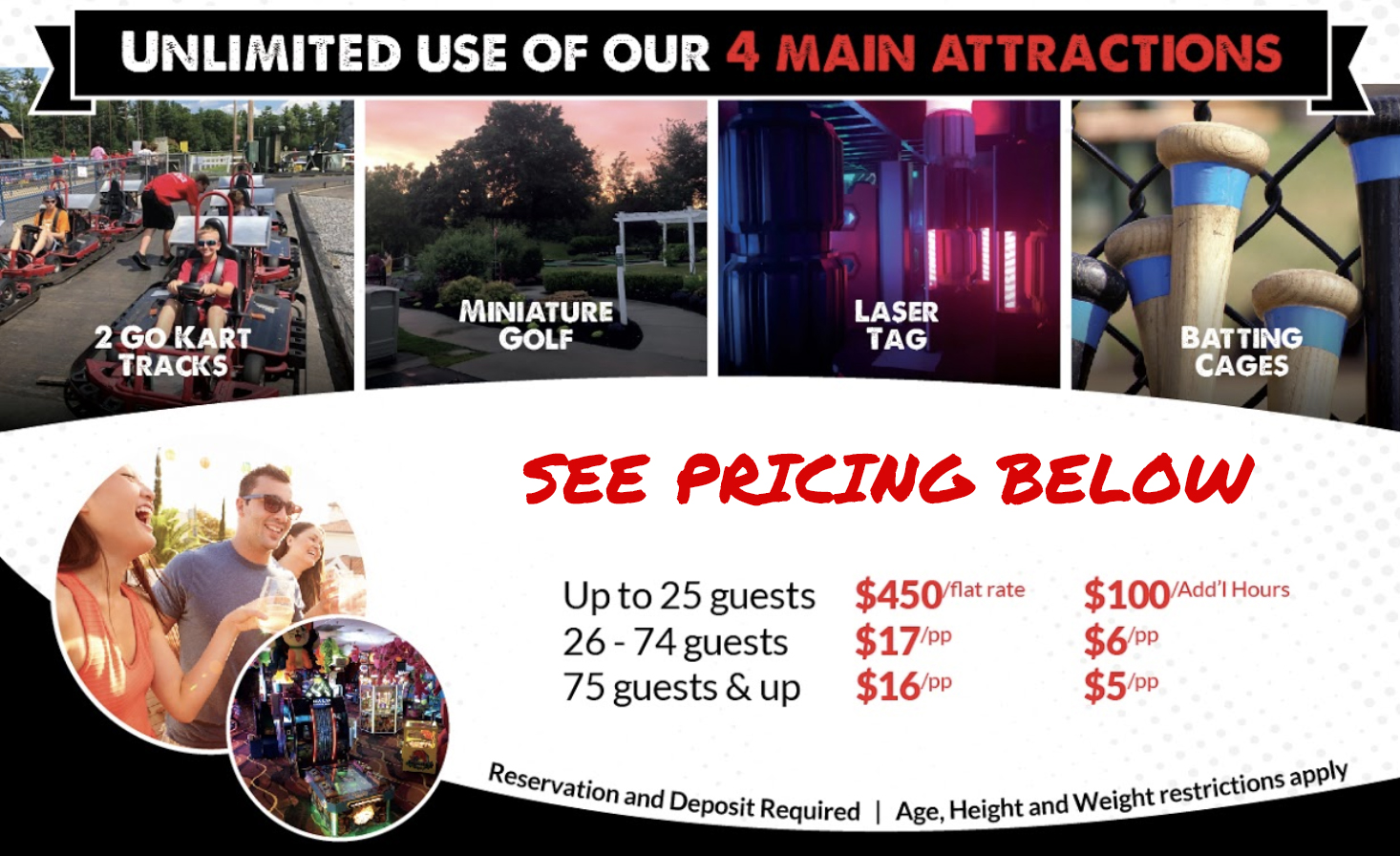 NEW FOR 2021 — 100% ONLINE BOOKING — MADE SIMPLE
WE ARE NOW 100% ONLINE WITH BOOKINGS.  PLEASE READ THE FAQ'S AT THE BOTTOM OF THIS PAGE WHICH ANSWER MOST QUESTIONS, THEN JUST CLICK THE PROPER LINK FOR THE AMOUNT OF GUESTS YOU HAVE. THE BOOKING PROCESS IS SIMPLE AND TAKES NO MORE THAN 10 MIN. THERE IS A NOTE SECTION FOR ANY SPECIAL INSTRUCTIONS OR QUESTIONS. PLEASE DO NOT USE OUR CONTACT PAGE FOR GROUP QUESTIONS OR AVAILABILITY. YOU CAN CHECK DATES AND TIMES BY BEGINNINGTHE BOOKING PROCESS, YOU DO NOT HAVE TO COMPLETE THE BOOKING.
SHOULD YOU STILL HAVE ANY QUESTIONS, PLEASE SEND US AN EMAIL AT : groups@hilltopfuncenter OR CALL DURING BUSINESS HOURS

FAQ's are at bottom of page
*Can accommodate groups up to 200 guests, accommodating ages 4 and up
*Indoor (60) and covered outdoor seating (140) available free of charge (first come, first serve)
*Multiple food, arcade and add on options available
2 Go Kart Tracks (we have 4, we'll help pick the best two for your group)
Mini Golf
Laser Tag
9 Batting Cages
Outside Covered seating for up to 160 guests (included in price)

 3 and 4 Hour Package Rates  (you will be asked
if you'd like to book add'l hours during booking process)

Add Additional hours for above rates
up to 25 guests: 100.00 flat rate
26-74 guests: 6.00pp
74 & up: 5.00.pp

If you have a smaller group and/or this is out of your budget, we have:
20% off Mini Golf for 10 or more
8 Attraction Tickets for $48.00 (see pricing page)
and when available, 3 Hour Wristbands (see pricing page)
LASER TAG, ARCADE AND SODA

Includes: 1  30 minute session: (3 games)
20 arcade Tokens
24 oz fountain drink per person.

15.99/pp min 15 guests
(3 day advanced notice required and 50% non-refundable deposit) Prices subject to change with out notice. This package available during regular business hours with the exception of Friday and Saturday Nights from 6-10PM

CALL 742-8068 TO BOOK THIS PACKAGE
PRIVATE LASER TAG
You can rent our entire arena for just your group!

For $300.00, you get the entire arena to your group only. You will have your choice of what game mode to play. It's up to a 736.00 value if you use all 32 vests.

Additional hours are just $100 each!!!

It's your arena, you call the shots, we can change the game times, formats, etc.

All Arcade games can be turned on (not included)

Please call for availability
Group FAQ's

If the amount of guests change from what you reserved, your rate may or may not change. Current rates are:
3 hr package
up to 25 guests = flat rate of $450.00
26-74 guests = $17.00pp
75 and up = $16.00pp
Additional Hours:
up to 25 guests = flat rate of $100.00
26 to 74 guests = $6.00pp
75 and up = $5.00pp
*Outside food CAN be brought in if you have booked a 3 Hour Fun in the Sun package AND you chose the correct option when booking.  There are multiple food selections, including our food, you bringing your own food, a mix,  or even catering. You will be asked which option during booking.   Your staff is responsible for trash pick up in the outside group tent area. If this area is left beyond normal clean up, a $75 clean up fee may be assessed.
*With this package, two our of our 4 go kart tracks are included. We pick the best two tracks based on the heights of the guests. If there are other groups at the same time or if we have additional staff, you may be able to use additional tracks. Do not expect this however, it is at the discretion of HFC Management.
Your deposit is non refundable (exception is business closure). If you should need to cancel and 7 or more days are provided, a gift card will be issued for amount charged. If less than 7 days notice is given, no refund/credit of any sort is given.
Methods of payment for groups is cash, credit (V,MC & Disc) or business check. *If you are paying with check already filled out and it is to much, we issue over payment checks in 5 to 10 business days.
*Late arrivals will not have their time extended automatically. It will be at the full discretion of HFC Management
*Bus Drivers/Chaperones do not receive free or discounted wristbands. We recommend at least 50% of staff DO NOT participate in attractions.
* We are happy to provide you with a rain date, however, it is not a guaranteed booking. It is based on availability. We do not close if it is raining, attraction that closes is our Slick Track.  We will work with you on any weather related scheduling issue.
*Any outside attractions is subject to closure at any time due to severe inclement weather and will reopen when safe to do so. No considerations for weather issues.
*If the person booking will not be here with their company/group, please make sure that those in charge are aware of our policies.
*Please plan to arrive a minimum of 15 minutes prior to your reserved time in order to get all guests checked in.
*All groups have free access to our outside group tent at no charge. It is first come, first serve. If we have a catered event at the same time, they will have exclusive access for their group as these events actually pay for the tent. We will make every effort to inform you beforehand.